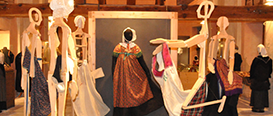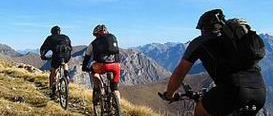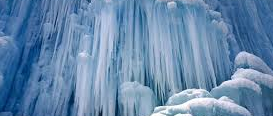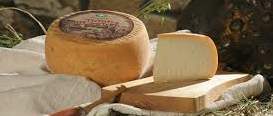 TYPICAL PRODUCTTS AND GASTRONOMY
The valleys are rich in timeless treasures that conserve their prestige without having to fear competition. It is the territory that offers these treasures and because of this generosity it merits being maintained and cultivated by man.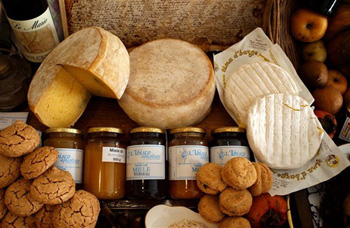 Following a long tradition, mushrooms and edible chestnuts are presented at historical markets that are animated every year with vendors and enthusiastic customers.
His Majesty: the King Bolete
Most people know them as king boletes or in local dialect as bolé, even though the experts attribute them precise Latin names. Nice looking, pulpous and of distinctive scent they treat the senses even before their delicious taste is appreciated at the table. Accordingly, every good season begins with a race to find them.
The Edible Chestnut, the Poor Queen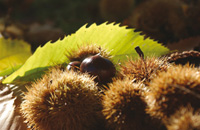 Despite the growing abandonment of the groves and the recently occurring diseases the edible chestnut resists like a true poor queen of these valleys. The numerous varieties distinguish themselves through size, colour and nature of the shell and they are known by different local names. The most frequent variety in the valleys of Po, Bronda and Infernotto are: Tampüriva, Ciapastra, Caruna, Cuntëssa, Rusana, Sarvaschina, Paiass und Bracalla.
They can be found on the markets of Sanfront, Paesana and Barge. They are collected by hand or with mechanical tools and are even today still presented in burlap sacks that preserve their genuineness.
The valleys of Po, Bronda and Infernotto are furthermore characterized by the cultivation of especially tasty and highly appreciated fruits.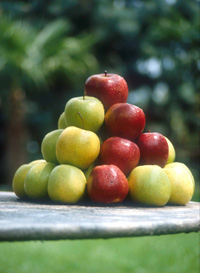 La mela della valle Bronda he technique of biological pest control, which does not leave any chemical residues, is used in the cultivation of the Bronda Valley Apple. This apple has excellent nutritious value and can be purchased at the local producers during harvest time from October onwards.
The name of the Renetta variety Grigia di Torrianaderives from its typical grey and rusty coloured skin and the district of Barge, from which it originates and where it is still cultivated today. It is known as the Queen of Baked Apples.
A further tasty specialty that enriches the offer of the valleys are the small fruits. Although being of humble size they have spread over the slopes of Monviso, covering it with their radiant colours. Blueberries, raspberries, strawberries, currants and gooseberries are an important market niche of the territory. Their marketing is carried out by a co-operative of local producers, by vendors or by the producers themselves.
On the market the delicious little tiny plum of ancient Syrian origin are known as Ramassin of the Bronda Valley. This unique fruit with its soft and rich pulp, its intensive scent and its sweet taste is harvested at the beginning of July. The Ramassin of the Bronda Valley is protected under a Slow Food label. On the hills of Castellar, Pagno, Brondello, Revello, Martiniana Po and Envie a grape is passionately cultivated that in 1996 received the controlled designation of origin D.O.C. Colline Saluzzesi.
The wine made from this Pelaverga grape is of a soft ruby-red colour, has a delicate and fruity bouquet with cherry and raspberry scents, often accompanied by a fine and never obtrusive spicy scent.
The prestige of this wine was promoted by Margherita di Foix, wife of the Marquis of Saluzzo Ludovico II. As early as 1511 she sent every year una trentina di botalli di vino de Pagno et de Chastella (about thirty bottles of wine from Pagno and Castellar) to Pope Julius II, because el bon vin gli piasia (he liked his wine).
For centuries bread, milk, polenta and further agricultural products have formed the basis not only for the municipalities of the Po Valleys but for the mountain population in general. Even today they are the main ingredients of the traditional cuisine.
One could list hundreds of delicious dishes that local innkeepers offer on the menus of their establishments. Especially noteworthy is Puppe dë treuva, a dish that has a funny name and a delicious peculiar taste … It is made of zucchini blossoms stuffed with rice and left-over meat. In Robella di Sanfront, for instance, they are prepared on the first Sunday of August on the occasion of the feast of Madonna della Neve.
In Ostana, on the other hand, polenta was prepared with boiled potatoes, wheat flower and buckwheat flower: Poulënto dë triffoule bou dë froumëntin, an old dish of simple ingredients in a unique combination. Even today some accomplished women cooks prepare this dish according to tradition.
The corn/maize flower biscuits Paste di meliga are called batiaje in the Barge area because they were eaten on the occasion of baptism (in Piedmont: baptise = fè batiè). They are a typical pastry of Piedmont's tradition with a unique and distinctive taste.