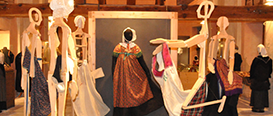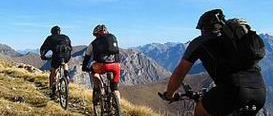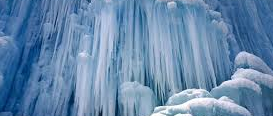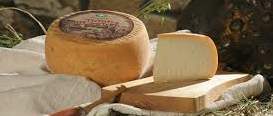 In the Western Alps at the foot of Monviso the valleys of Po, Bronda and Infernotto offer innumerable possibilities for passionate cyclists. The diversity of the itineraries, the panoramic view dominated by mountain ranges of the Alps and open towards the plain, and several stages of the legendary Giro d'Italia, render this territory a destination in great demand by those who enjoy cycling and mountain biking.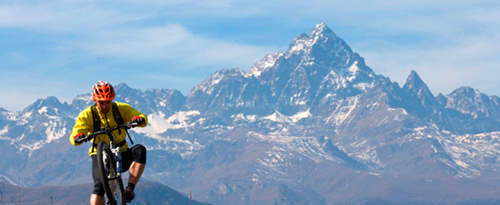 There are appropriate itineraries for everyone. The lower valley is equipped with bike paths and offers itineraries for cycling tourists on less frequented, mostly unpaved roads. The itineraries that the central valley offers are of medium difficulty level with small altitude difference and at an elevation that allows riding them year round. The upper valley, though, is the territory for real athletes who choose to climb the legendary ascents of the Giro d'Italia and other important competitions.
Furthermore, a Chrono Test Point is installed on the Brondello Pass (887 m). The itinerary develops for 4.3 km with an altitude difference of 372 m and a medium gradient of 8.65%. It starts at the restaurant La Torre in Brondello where one can rent the necessary Chrono chip (€ 3.00). Mountain biking is very common; every year the valley's itineraries are the theatre of important events like, for instance, Iron Bike and Valpolonga.
Last but not least, the chair-lift Seggovia Monviso in Crissolo is equipped for the uphill transport of bicycles to allow for downhill fans to enjoy themselves without too much effort!
BIKE HOTEL
ALBERGO – RISTORANTE La Colletta***
District Colletta, 29 – PAESANA (CN), tel/fax 0175.945321, e-mail info@lacolletta.com, website www.lacolletta.com
SERVICES FOR CYCLISTS: Bike Hotel with mountain bike and city bike rental, biking guides, special menus for cyclists, guarded bike storage, repair shop for ordinary maintenance.
Described below is a selection of the best itineraries with regard to their state of repair, support points, water availability and scenic and cultural value.
ASCENTS ON ROADS
PAESANA (mt. 632) – district AGLIASCO (970 m)
Length: 5 km
Altitude difference: 338 m
CASTELLAR (mt. 353) – PAGNO (362) – PAGNO (362 m) – COLLETTA DI BRONDELLO (770 m)
Chrono Test Point at the restaurant La Torre in Brondello
Length: 8 km
Altitude difference: 417 m
PAESANA (mt. 632) – ONCINO (1,200 m)
Length: 11 km
Altitude difference: 568 m
BAGNOLO PIEMONTE (mt. 365) – district MONTOSO (1,237 m)
Length: 10.5 km
Altitude difference: 872 m
PAESANA (mt. 632) – district PIAN MUNÈ (1,523 m)
Length: 15 km
Altitude difference: 891 m
BIKE PATHS FOR CYCLING TOURISTS
Cycling itinerary of the Po Valley
Paesana, Sanfront, Revello, Rifreddo, Sanfront, Paesana
Length: 25 km – altitude difference: 320 m
Currently under reconstruction.
Cycling itineraries SALUZZESE IN BICI (by the association Ij 'Npaotà)
– Itinerary no. 2: Saluzzo – Abbazia di Staffarda (Revello) – Saluzzo (length: 36 km, level, 20% unpaved);
– Itinerary no. 3: Saluzzo – Barge – Paesana – Sanfront – Saluzzo (length: 50 km, altitude difference: 350 m);
– Itinerary no. 4: Saluzzo – Castellar – Rifreddo – Revello – Saluzzo (length: 40 km, level, 10% unpaved);
– Itinerary no. 9: Saluzzo – Castellar – Pagno – Saluzzo (length: 20 km, altitude difference: 350 m, 50% unpaved)
GIRO OF MOMBRACCO (on paved road)
Revello, Envie, Barge, Paesana, Rifreddo, Revello (length: 35 km, altitude difference: 300 m)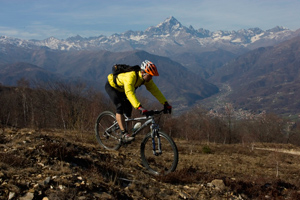 ITINERARIES FOR MOUNTAIN BIKES
PIAN MUNÈ (PAESANA) – CROCE TOURNOUR
Easy itinerary, suitable for everyone, along a high-altitude unpaved road with panoramic view.
Length: 5.8 km
Altitude difference: 104 m
FROM THE TRAPPIST MONASTERY TO RIFREDDO ALONG "THE MOUNTAIN OF LEONARDO"                                                     Panoramic itinerary on the slopes of Monviso reaching the alms and the hill of Arpiol at an elevation of 1,791 m.
Length: 5.5 km
Altitude difference: 570 m
CASTELLAR – S. GRATO – S. MICHELE – BRONDELLO – CASTELLAR                                                                                                                         Itinerary along the watershed between the valleys of Bronda and Po at a medium elevation and back along the provincial road in the valley bottom.
Length: 16 km
Altitude difference: 590 m
PAESANA – S. LORENZO – MOUNTAIN HUT BERTORELLO – district PIAN MUNÈ
Itinerary on the north side, through shady forests and a beautiful pine grove where the mountain hut Bertorello is situated, and finally reaching the plateau of Pian Munè with its panoramic view.
Length: 13.5 km
Altitude difference: 920 m
BARGE – MONASTERY PRÀ D'MILL – BRIC BRUSELLA – BARGE
Circular route in the Infernotto Valley, reaching the famous monastery Prà d'Mill.
Length: 29.5 km
Altitude difference: 1,030 m
MTB ITINERARIES BRONDELLO AND BRONDA VALLEY
The itineraries, of different length and difficulty level, have designated markings and are collected in the brochure "MTB Brondello – Valle Bronda e Isasca" by the Association La Torre di Brondello.
For additional information: www.mtb-brondello.it; www.triangolodoromountainbike.org
For further itineraries or for more detailed information about the Valpolonga, please contact the A.S.D. Bici da Montagna Alta Valle Po, located in Paesana, cell phone: 333.2274335, or consult the website: www.mtbvallepo.it, e-mail info@mtbvallepo.it
ITINERARIES AROUND MOMBRACCO
Circular route of the Trappist Monastery                                                                                                                                                                                       A beautiful panoramic view of the upper Po Valley accompanies the itinerary until it enters into the dense forest of edible chestnuts, from where it is possible for one's gaze to roam over the surrounding plain as far as to the Turin area.
A high technical capability is required. Recommended period: spring and autumn.
Length: 17 km
Altitude difference: 600 m
For additional information: www.mombracco.it
Circular route of the quarries
In the shade of the forest with its balmy odours the peak of Mombracco is reached. Then the trail descends towards the Mulatero Hut and the Cross of Sanfront. On the way back a big quarry is reached and passed, returning to the Trappist Monastery.
A medium technical capability is required.
Recommended period: spring and autumn.
No water available along the itinerary.
Length: 12 km
Altitude difference: 500 m
For additional information: www.mombracco.it
Circular route of Colletta                                                                                                                                                                                                               After forests, creeks, long descents and switchbacks the Trappist Monastery of Mombracco is come by, the circular route "The Mountain of Leonardo" is reached and followed to the pass Colletto della Rocchetta. From here the descent leads back to the starting point. An extreme technical capability is required. Recommended period: spring and autumn.
Length: 22.5 km
Altitude difference: 900 m
For additional information: www.mombracco.it